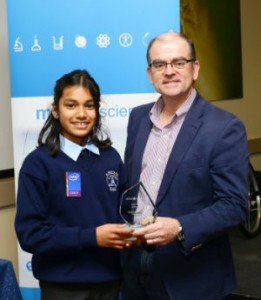 A huge congratulations to a sixth class student who won the Most Innovative Idea with her project on Energy Speed Ramps in the Intel Mini Scientist Grand Final, an event which is the finale of the nationwide competition which has been running since September 2015. The Intel Mini Scientist, provides primary school students from 4th to 6th class, the chance to explore science through project based learning.
The student was firstly successful at a school level exhibition where an Intel judge visited to view all projects submitted by students. The second phase saw her winning project take part in the Mini Scientist Regional Final, which was hosted in Leixlip.
The Grand Final, which was held in Trinity College in Dublin in January, brought together the top 22 projects from across the country after being whittled down from approximately 2000 projects exhibited.  The participants had to exhibit their projects for a panel of judges, which was made up of Intel employees and was also attended by Damien English, Minister of State at the Departments of Education and Skills & the Department of Jobs, Enterprise and Innovation who had the opportunity to visit each of the participant projects before helping to award the prizes to winning projects.
We are very proud to have a student represent and succeed in such a competition in which she had all her hard work acknowledged and recognised.